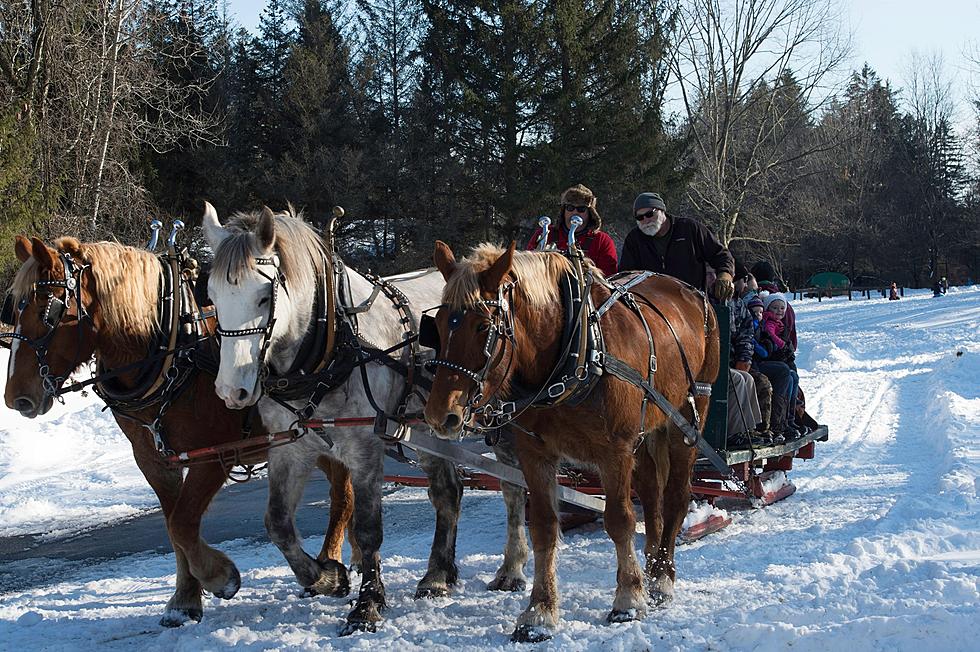 A Fun Chenango County Outdoor Event Coming Up To Cure Your COVID Pandemic Blues
Credit: Friends of Rogers Environmental Education Center Inc., Facebook
With COVID case numbers spiking, it gets harder to find fun things to do so I'm giving you a helping hand by letting you outdoor enthusiasts in on a really cool (literally!) event in Chenango County that is coming up on its 44th year!
The Friends Of Rogers Environmental Center, a group that holds all kinds of nature and environmental-related programs at the center is holding the 44th Annual Winter Living Celebration on January 22 at Rogers Environmental Center in Sherburne at 2721 State Highway 80, just outside of Sherburne, NY.
First of all, it's a free event so no need to worry about your post-holiday empty wallet, and it features plenty of fun outdoor activities that get us all outside, all the while enjoying the beauty of nature.
Here's what to expect at this event, keep in mind, the weather is a factor since snow is required for some of the activities.
horse-drawn sleigh rides by Lamplit Farm (note: you must register when you arrive for a time slot for your ride)
fire pits to warm up by thanks to sponsor Blue Ox
make s'mores by the campfire (oh yeah!)
snow painting with Golden Artist Colors
you can participate in something called "be a human bird feeder" (I don't know exactly what this is but I say bring it!!)
snowshoeing (let's hope!)
ice rescue demonstration
visit the newly remodeled Rogers Environmental Center Visitors' Center (opens at 10:45 am) and see new exhibits.
the Sherburne Rotary Club will be at the outdoor classroom and offering hot foods for sale
Since organizers must adhere to New York State COVID precautions, all those attending this event must wear a mask indoors and out when participating in various events.
Is it me or is this just what we all need now that the holidays are over and January has a way of making us all feel grim? You can find out everything you need to know about this event on the Facebook page Friends of Rogers Environmental Education Center, Inc.
Here's More Winter Fun - Magical Ice Castles Starting to Take Shape in Lake George
The magical Ice Castles are starting to take shape at Festival Commons in Lake George, New York.
Snow is Blowing; Catch a Little "Me Time" at These Upstate Luxury Resorts
The holidays are in the rear view mirror and now it is time for some self-pampering. Upstate New York has a rich history of resorts and inns and some of the best are on this list. This is the A-list of resorts, all have spas and wellness centers, all have fantastic accommodations, and all offer some of the best wineing and dining you will find in the region. So from the Hudson Valley to the mountains and to western New York, we offer up 12 different superior places for you and your significant other to sneak away to and get a little "me time" and unwind from the busy holiday season.
More From Big Cat - Country with Attitude