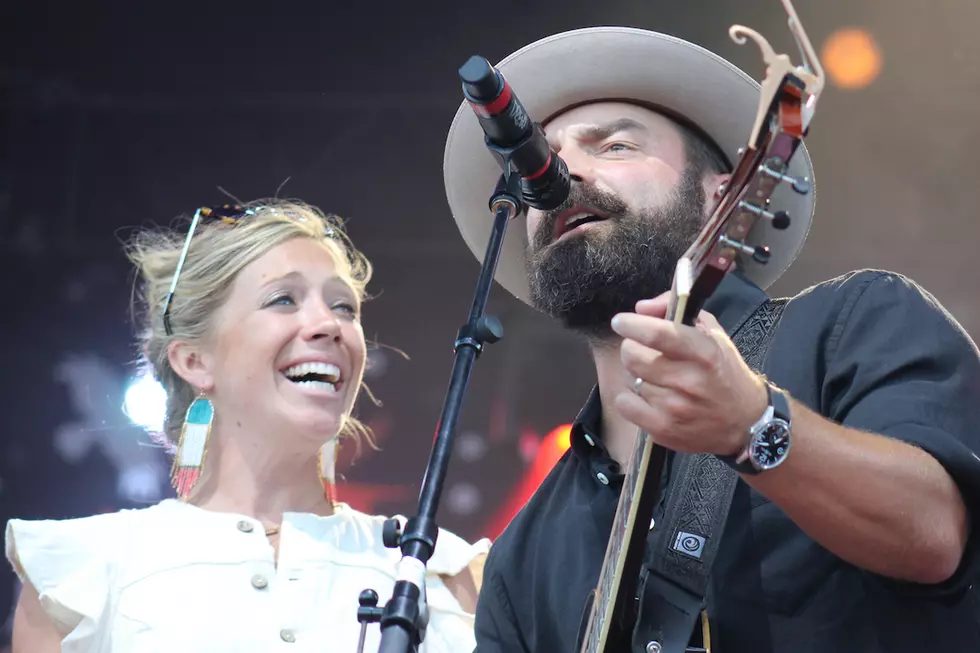 Drew Holcomb Builds 'Family' at 2019 Moon River Music Festival [PICTURES]
Angela Stefano, The Boot
In 2019, for the second year, Drew Holcomb's Moon River Music Festival took place in Chattanooga, Tenn., nestled on the banks of the Tennessee River, in the heart of the city. Before finding its home there, the festival spent a handful of years in Memphis, Holcomb's own hometown. That location was perfect in the event's early days, Holcomb told The Boot backstage during the 2019 fest, but as Moon River grew, he knew he needed to make a change.
"We looked around Memphis, looked around Knoxville, looked around Chattanooga, and this spot -- we just got here and looked around, and were like, 'Man, if we can convince the city to let us do this, it's perfect,'" Holcomb recalled from a lounge area overlooking the river. So, in 2018, Moon River moved to Chattanooga, and Holcomb checked more than just the location and amped-up amenities off his festival wishlist.
"The first year we did it here, my number one dream headliner was the Avett Brothers, and they played last year and headlined. It was a perfect dream come true," he continues. "And then, this year, both Brandi [Carlile] and Jason [Isbell] were at the top of my list."
It wasn't just the event's headliners -- Isbell on Saturday night (Sept. 7), Carlile on Sunday night (Sept. 8) -- that made Moon River 2019 special, though. "Honestly, there's not a band on the bill that we didn't want," Holcomb explains. "Birdtalker just played -- they're going on tour with us this fall. Brook & the Bluff, the band that started the day -- I heard them at a festival in Charleston and said, 'Man, we gotta have them at Moon River.' So it's pretty organic how it comes together."
Holcomb's latest album with his band the Neighbors, Dragons, is stacked with guest appearances, many of which started out as friendships. That's the case with "You Want What You Can't Have," for example, a collaboration and co-write with Lori Mckenna.
"And that was actually a Moon River story!" Holcomb interjects. "We did this VIP event, like a songwriter-in-the-round thing, in Memphis, the third year we did [the festival], and and she was one of the guest artists for that. I just met her that day. After the round, she said, 'I love your song. If you ever wanna write with me, let me know.'
"I was like, 'Uh, okay, yes. You know you're Lori Mckenna, right?'" he continues with a laugh. "So I went to Boston and wrote with her. We just had a great time. She's a family-oriented person, you know? She's got five kids; I've got three. We had a lot to bond over."
It's not the only time Moon River has led to a musical team-up, either: "Natalie Hemby played that same event last year, and it was the same thing: 'We should write together sometime,'" Holcomb adds. "My new record's [title track, "Dragons,"] is a co-write with Zach Williams, who's from the Lone Bellow, and they're playing tonight ... So collaboration coming out of collaboration coming out of collaboration is a thing."
Between his onstage Moon River jams, his collab-heavy new album and the simple fact that Holcomb's band is called the Neighbors, it's easy to assume that working with others is natural and easy for him. However, that's not the case, the singer says.
"I used to hate co-writing. I still don't love it with strangers," he admits. "I feel like my songwriting is so personal and so vulnerable that I don't like writing with people I don't know yet. It's a trust thing, a creative trust. I love co-writing with the right people, but it is more work for me. When I'm by myself, I'm really just the captain of my ship."
Of course, it's not as if Holcomb never writes alone anymore. Half of Dragons' songs were crafted solo. "There's still songs that [I prefer to write alone]," he points out. "I couldn't have written "You Never Leave My Heart" with anybody, because it's about my brother's death, and I couldn't really share that. That was something that I needed to write alone. So it depends on the song."
A perennially personal songwriter, Holcomb is at his most vulnerable and introspective on Dragons. Sometimes, such as in "You Never Leave My Heart," that means he has to go the journey of writing alone; other times, however, collaborating has pushed him to consider new options and take the songs beyond the realm of what's familiar to him.
"I think that's the thing that's good about it is that it's hard for me, because people write and think differently," he reflects. "That's good for music ... [Collaborators] can tell me, 'Hey, you do this, but what if you sort of push it this way?' Like, Sean [McConnell] was especially that way with "End of the World." [He was] really pushing it to be a bigger, bolder pop song, which was a little outside of my wheelhouse -- but it isn't anymore."
As he wrote the songs for Dragons, Holcomb intentionally wanted to open himself up to change and challenges. "Everything was like, 'If I haven't tried it before, let's try it,'" he relates. It was around this time that the singer came together with Johnnyswim and Penny & Sparrow for the collaborative Goodbye Road EP.
"I really wanted to try as many new things as possible, and that really all started with [that project]," he says. "Just opening myself to doing something different."
During the 2019 Moon River Music Festival, Holcomb reunited with the artists of Goodbye Road (as well as with his wife, singer-songwriter Ellie Holcomb) for a Sunday afternoon performance, which included a rousing rendition of his bouncy and anthemic single "Family." As they played, an audience of families and friend groups of all kinds sang along from the grassy lawn, toddlers dancing around and splashing in a nearby fountain. Onstage, Holcomb's challenging, rewarding, complex familial bonds with his fellow artists played out in real time.
LOOK: Photos From Sunday at Moon River Music Festival
More From Big Cat - Country with Attitude