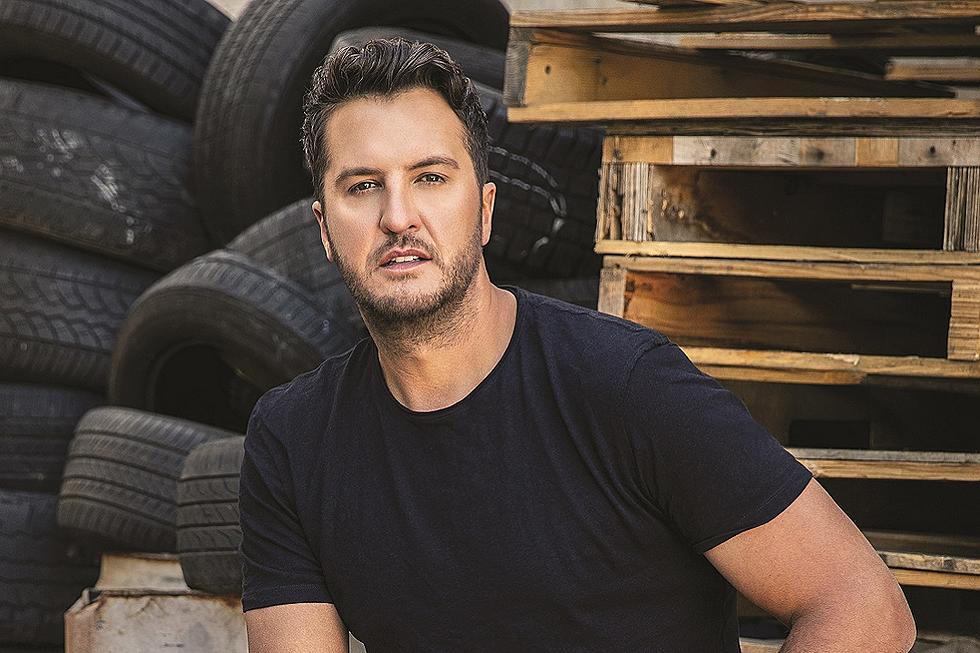 Luke Bryan's 'Born Here, Live Here, Die Here': 5 Deeply Country Tracks
UMG Nashville
Luke Bryan's Born Here, Live Here, Die Here is a more mature album than its singles might lead you to believe. "Knockin' Boots," "What She Wants Tonight" and "One Margarita" are the most fun listeners will find on the country superstar's new album, out Friday (Aug. 7).
That's not to say Bryan's latest effort is a snooze; rather, it's that he's not trying to make "Country Girl (Shake It for Me)" happen again. The 10-track project, which clocks in at just over 30 minutes, instead features love songs and solid country stories befitting a 44-year-old.
Look to "Knockin' Boots," the previously released "Build Me a Daddy" and the record's title track for a clearer picture of what to expect from Born Here, Live Here, Die Here. Ace songwriters, a couple newcomers and an Americana rising star contributed to Bryan's new album, a pretty dang traditional set of songs; Bryan hinted that his next effort would be shorter and "very vintage-like" last fall.
Bryan's die-hard fans will, no doubt, keep Born Here, Live Here, Die Here on repeat, but those who have written the singer off for his hip-shaking stage moves and more modern singles should dig into the album, too. Start with these five tracks:
1

"Born Here, Live Here, Die Here"

Bryan left his Georgia hometown for Nashville, but he sings this song from the perspective of the guy who never will. "Some dreams you catch, some dreams you chase / Some people run and some people stay," he points out in the bridge.

"From the roots to the boots to the lay-me-down suit / Yeah, I'm gonna be proud to be right here / Just like my daddy and his daddy did, too," Bryan sings in the chorus, penned by Jake Mitchell, Jameson Rodgers and Josh Thompson. "We ride the same roads, work the same dirt / Go to the same church and drink the same beer ..."

2

This Jake Mitchell, Josh Thompson and Brett Tyler co-write toes the line between ripping your heart out and coming on too strong, but it generally leans toward the former. The story of a young boy hoping to fill the hole in his family after the death of his veteran father, "Build Me a Daddy" is Bryan's most tear-jerking track since "Drink a Beer."

"Could you build me a daddy? / Strong as Superman / Make him 10 feet tall with a southern drawl and a crooked smile if you can," Bryan sings in the chorus. "'Cause I sure miss him / Maybe you could bring him back / If I walked in with him, it'd sure make momma happy ..."

Could someone pass us a tissue?

3

A classic country waltz, "Little Less Broken" is a story of heartache, told by the guy who just saw his former flame walk into a bar with her new love. "I just wanted a place to sip my way through missin' you / You didn't see me when you walked past me / I wasn't ready to see you this happy," Bryan laments, before he decides to give up his barstool and "slip out the back" before she realizes he's not quite as over her as she is him.

"It looks like I'm movin' just a little less on with this / Looks like your world has got a little less wrong with it / Looks like it too you just a little less time / Looks like your heart's just a little less broken than mine," Bryan sings. "Maybe goodbye didn't hit you the way that it hit me / Guess hearts don't ever break 50/50."

Michael Carter, Lindsay Rimes and Matt Rogers penned this one, which sounds like it was pulled straight out of George Strait's or Midland's playbook.

4

Just as Dolly Parton learned from her coat of many colors, this song's protagonist learns from a non-existent boat that money isn't everything. "He coulda picked up an extra shift / Or a weekend at the factory / But every Sunday was saved for Jesus / And Saturdays, he spent with me," Bryan sings of the father who may not have been able to give his son his dream fishing boat, but was able to instead spend time and share wisdom with him.

"He'd say, 'Love what you got, buddy, not what you ain't' / And just about then, that bobber would sink / And that outboard dream of mine would disappear," goes the chorus, written by Randy Montana, Josh Thompson and Mike Walker. "I grew up pretty lucky as far as lucky goes / Too broke for a boat."

5

An acoustic guitar line carries this track, written by Bryan with the inimitable Brent Cobb. Eddy Dunlap's steel guitar and Chancie Neal's background vocals add an ethereal quality to the Jon Pardi-esque, vaguely timid love song.

"Where are we goin' when we leave here? ... Where are we goin'? The night is young ... Where are we goin' if this is love?" Bryan asks throughout, his questions slowly answered one by one before he admits, "Just between the two of us / It all feels so right with you in my arms / Where it's goin', I don't know / But let's keep following our hearts."
More From Big Cat - Country with Attitude