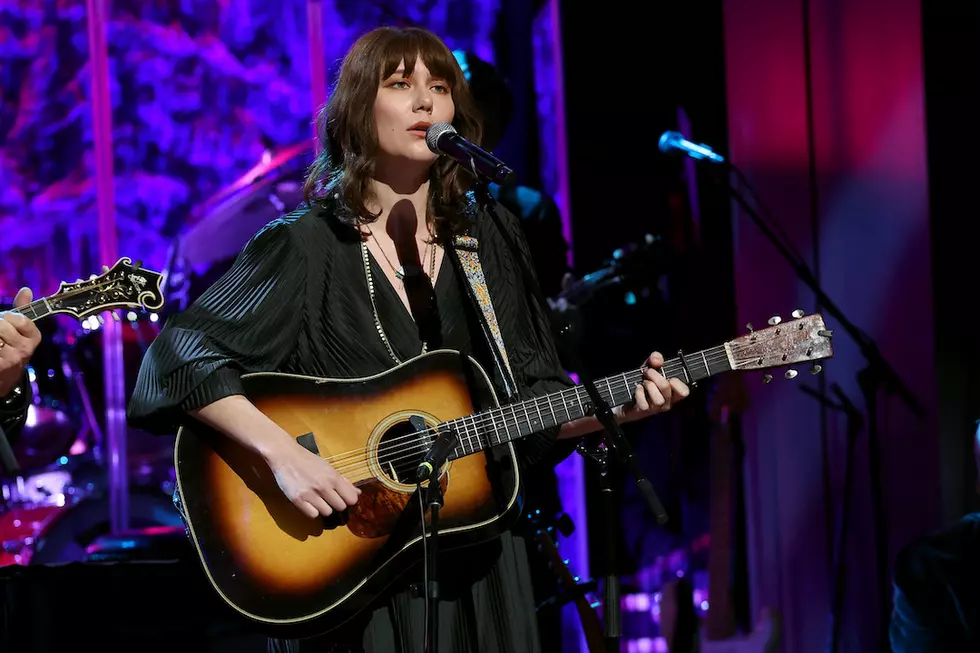 Top 10 Molly Tuttle Songs
Terry Wyatt, Getty Images for Country Music Hall of Fame and Museum
Molly Tuttle's career may still be in its earlier stages, but that doesn't mean that the 29-year-old multi-instrumentalist, singer, and songwriter hasn't already made a lasting mark on the bluegrass world.
In 2017, Tuttle made history: she became the first woman to receive the International Bluegrass Music Association's Guitar Player of the Year award. She was awarded the honor once again the following year.
Tuttle's prowess on the guitar and mean flat-picking skills come from a lifetime of practice that began when she was a child. She came to love bluegrass music through her father and grandfather, both talented multi-instrumentalists in their own right.
This year, Tuttle released her first bonafide bluegrass album, Crooked Tree, with her band, the Golden Highway. The album gained critical acclaim and further solidified Tuttle's status as one of the most exciting bluegrass acts to follow today.
Crooked Tree gave us some of Tuttle's best songs, yet her earlier work is not to be eclipsed. Tuttle has been releasing music since 2017, and each stage of her career has offered something new to listeners.
Take a listen to these 10 essential songs from Molly Tuttle's impressive musical career.
10

"The High Road"

From: 'When You're Ready' (2019)

In the first 30 seconds of "The High Road," Tuttle creates more tension and emotion than many artists build in an entire song. Over a gently picked acoustic guitar, Tuttle sings, "You take the high road / I'll take my road / Not knowing if we'll ever meet again." Suddenly, we are on a journey alongside her, navigating the mysterious ways the universe brings people in and out of our lives.

9

"Million Miles"

From: 'When You're Ready' (2019)

Another standout track from When You're Ready, "Million Miles," is full of melancholy and longing, wonderfully expressed via Tuttle's crystal clear vocals and rich layers of instrumentation.

8

"Fake Empire"

From: '...but i'd rather be with you' (2020)

In 2020, Tuttle released ...but i'd rather be with you, a collection of ten cover songs. Her take on The National's "Fake Empire" is delicate and beautiful. Under the spell of Tuttle's enchanting voice, the imagery of the song's lyrics is more apparent than ever.

7

"She'll Change"

From: 'Crooked Tree' (2022)

"She'll Change" is the title track of Crooked Tree, and it's an excellent introduction to the album. Written with Old Crow Medicine Show's Ketch Secor, the tune feels like a bluegrass jubilee as Tuttle sings about an ever-evolving, free-minded woman who "can paint the sun at midnight, roll out the moon at the break of day."

6

"When You're Ready"

From: 'When You're Ready' (2019)

The title track of her debut full-length album, "When You're Ready," is a haunted, moody cut that Tuttle co-wrote with Kyle Ryan. In the song's chorus, her voice achieves acrobatic feats as she manifests the pain of caring for someone who isn't yet able to open the door to love.

5

"Sunflower, Vol. 6"

From: '...but i'd rather be with you' (2020)

Pop star Harry Styles' arguably boring Fine Line cut "Sunflower, Vol. 6" blossoms into something hypnotizing and magnetic under the care of Tuttle.

4

"Dooley's Farm" feat. Billy Strings

From: 'Crooked Tree' (2022)

Crooked Tree is full of noteworthy collaborations that find Tuttle joining forces with bluegrass legends and musical peers. One of the best is "Dolley's Farm," an ominous outlaw tale that Tuttle spins with the help of guitar virtuoso Billy Strings.

3

"Helpless" feat. Old Crow Medicine Show

From: 'Helpless' (2020)

Tuttle's Crooked Tree includes multiple collaborations with Old Crow Medicine Show, but they first forged a creative partnership years earlier. In 2020, the band joined Tuttle for a rendition of the Crosby, Stills, Nash & Young classic "Helpless," one of their best joint efforts.

2

"Crooked Tree"

From: 'Crooked Tree' (2022)

The multi-instrumental title track "Crooked Tree," penned by Tuttle and Melody Walker, tells an allegory: the perfect trees are chopped and turned to toothpicks and paper, while the crooked trees are spared — not by kindness, but because "a crooked tree won't fit into the mill machine." 

With pride, Tuttle declares that she, too, would like to find the goodness in being different. She sings, "like the crooked tree, I'm growing stronger day by day."

1

"Take The Journey"

From: 'When You're Ready' (2019)

"Take the Journey," which stands as Tuttle's most-streamed song as of Nov. 2022, is alive with a firey, forward-driving spirit.

Featured on her 2019 record When You're Ready, the track perfectly captures why her guitar-playing talents heartily deserve all the honors and accolades earned in recent years. When Tuttle sings, "Take the journey / Someday you'll make it back home again," it's a cutting message that needs no repeating. 
More From Big Cat - Country with Attitude