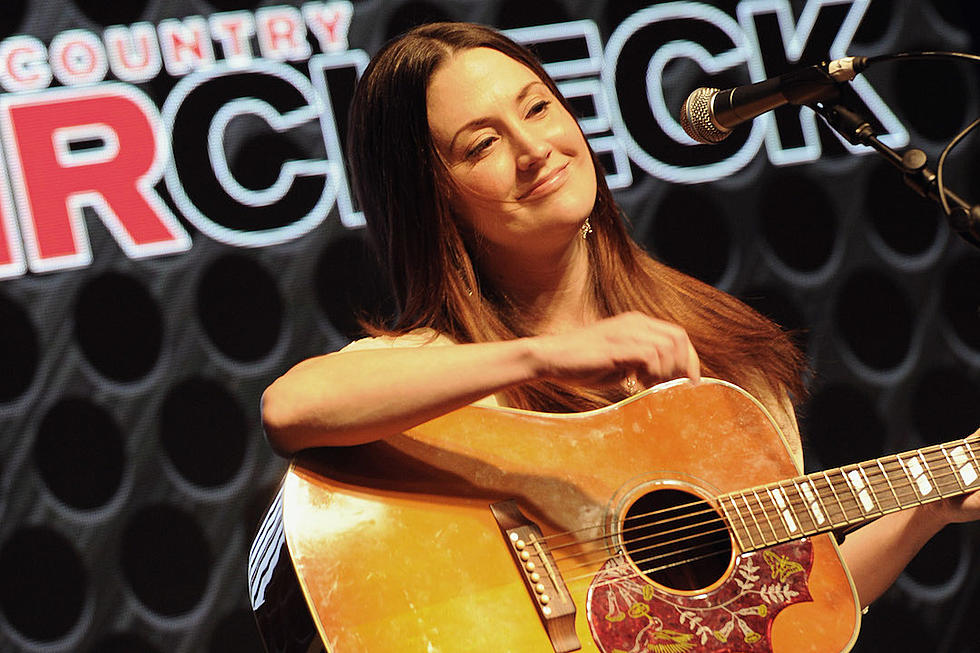 Top 10 Songs By Natalie Hemby
Rick Diamond, Getty Images
If you love a country song that's been released in the past decade, there's a chance that Natalie Hemby had a hand in it. From Miranda Lambert and Little Big Town to Kacey Musgraves and Maren Morris, plenty of country artists have recorded songs written by Hemby at some point in their careers.
With six No. 1 singles to her credit, Hemby's reputation as one of county music's most sought-after songwriters is well earned. Also a compelling artist in her own right, Hemby's 2017 debut album Puxico received critical acclaim as one of the best Americana records of that year, and brought the behind-the-scenes songwriter to the forefront of the genre. Oh, and she's a member of the Highwomen with Morris, Brandi Carlile and Amanda Shires.
Whether she's writing for herself or someone else, and whether it's a pop-country hit or quiet Americana ballad, Hemby's approach to songwriting is always personal and poignant, drawing listeners into lyrics with which they can't help but connect. Read on for The Boot's 10 favorite songs by Hemby:
10

"Good Thing"

From Keith Urban's 'Fuse' (2013)

Written alongside Urban and Mike Elizondo, "Good Thing" appears on Urban's Fuse album. Debuting at the top of the charts, Fuse was lauded by critics for including a diverse range of musical and lyrical stylings, and signified a shift in Urban's career as an artist looking to push the boundaries of what's expected. In that sense, it was the perfect album for Urban to collaborate with Hemby for the first time.

"Good Thing" is uptempo and electric, bringing a decidedly more rock 'n' roll sound to Urban's music; however, the lyrics keep him grounded in the country music for which fans know (and love) him. Different from many of Hemby's other songs, "Good Thing" speaks to her diversity as a songwriter, and her ability to bring life and universality to every song she touches.

9

"Crowded Table"

From the Highwomen's 'The Highwomen' (2019)

Hemby and Carlile, both Highwomen members, enlisted Lori McKenna to co-write "Crowded Table," a harmony-filled profession that encapsulates the Highwomen's mission: "I want a house with a crowded table / And a place by the fire for everyone." The trio won Best Country Song at the 2021 Grammy Awards for their message of inclusivity and love.

8

"I Wish I Was"

From Maren Morris' 'Hero' (2016)

Written with Morris and Ryan Hurd, "I Wish I Was" comes from Morris' debut album, 2016's Hero. A blues-infused breakup ballad, "I Wish I Was" sees Morris wishing she could love someone but knowing she's unable to do so and will, therefore, have to break their heart. It's a bit of a bummer of a song, but one that is so flawlessly written that you wonder if Morris' scorned suitor can't help but forgive her.

In many ways, Morris and Hemby are a perfect writing team, as both artists are known for their diversity. Morris seamlessly blends various styles of music, while Hemby can turn almost any set of words into a beautiful, unique song, which makes "I Wish I Was" (not to mention the two songs they co-wrote on Morris' sophomore album, Girl) a song made in country music heaven.

7

"This Too Shall Last"

From Anderson East's 'Encore' (2018)

Soulful and bluesy with an undercurrent of gospel singers who carry the song through, "This Too Shall Last," appears on East's critically acclaimed studio album Encore. The track is an ode to both the pain and joy in life, acknowledging that what is good can sometimes crumble, but asserting that love will always win out in the end.

Hemby wrote "This Too Shall Last" with East and Aaron Raitiere, providing lyrics that reveal the fight to believe that love can last, even in the midst of trial. Grounded in East's soul-soaked voice and a hopeful realism that only time and experience can teach, it's songwriting at its best, and a beautiful testament to the emotional complexity that lives in us all. If you're looking for an extra treat, check out East's stripped-down version of "This Too Shall Last." You won't be disappointed.

6

"Bluebird"

From Miranda Lambert's 'Wildcard' (2019)

Lambert's "Bluebird" earned her a No. 1 country chart hit for the first time in six years when it climbed to the top of the rankings in July of 2020. The COVID-19 pandemic no doubt helped the success of the songbird-sweet track: Its hopeful message was the light in our souls and the bluebird in our hearts, in a way.

Hemby, Lambert and Luke Dick co-wrote the song.

5

"Rainbow"

From Kacey Musgraves' 'Golden Hour' (2018)

The perfect closing for Kacey Musgraves' perfect 2018 album Golden Hour, "Rainbow" is that first sigh of relief and first breath of fresh air when you find yourself just barely on the other side of the storms of life. Hemby teamed up with Musgraves and Shane McAnally for the touching piano ballad, which began as a personal note of encouragement from Musgraves to herself, but which she says "ended up being a song for anybody with any kind of weight on their shoulders."

"Rainbow" doesn't shy away from the fact that life is hard, but it gently urges us to keep moving forward even in the midst of dark times. In the end, resilience and hope will prevail, rainbows will color the stormy sky, and "It'll all be alright."

4

"Pontoon"

From Little Big Town's 'Tornado' (2012)

Before you start thinking that Hemby is all nostalgia and ballads, consider that she also wrote a song about partying on a boat. The perfect summer anthem, "Pontoon" was Little Big Town's very first No. 1 hit and earned the group a Grammy in 2013, for Best Country Duo / Group Performance.

Written alongside Luke Laird and Barry Dean, "Pontoon" would never have been written if Hemby hadn't also written a song for Miranda Lambert with a similar-sounding name. In 2012, Hemby and Laird were fresh off writing "Fine Tune," (which appears on Lambert's Four the Record album) when Hemby's publisher mistakenly referred to the song as "Pontoon." After laughing about the story during a songwriting session with Dean, the songwriters thought to themselves, "Well, "Pontoon" would actually be a cool song to write" -- so, they did it! Slow and meandering (just like the boat itself!), "Pontoon" places an emphasis on relaxation and is one of the best songs to listen to on a laid-back, lazy summer afternoon.

3

"Pushin' Time"

From Miranda Lambert's 'The Weight of These Wings' (2016)

Released on Lambert's 2016 double-disc opus The Weight of These Wings, "Pushin' Time" is an intimate portrait of guardedly falling in love after heartbreak. Written by Hemby, Lambert and Foy Vance, "Pushin' Time" is instrumentally simple: Soft guitars and piano give way to the song's vulnerable lyrics and Lambert's beautiful duet with her then-boyfriend, Anderson East. "Can't take it slow, 'cause you and I are pushin' time," they sing in the chorus, revealing a love that may be unexpected but can't be ignored.

A subtle song that reveals the not-so-subtle power of love to transform pain and restore life, "Pushin' Time" is yet another example of Hemby's ability to channel a vast array of human emotion into a small set of verses.

2

"I'll Remember How You Loved Me"

From 'Puxico' (2017)

Time passes and we forget. It's inevitable. We forget the people who lived next door when we were 12, or the details of our high school graduation day. But, as Hemby sings in the subtly dynamic and impeccably poignant "I'll Remember How You Loved Me," even as the particulars of life fade away, the feelings surrounding those experiences never do.

"I'll Remember How You Loved Me" is one of nine tracks on Hemby's solo debut album, Puxico, a concept record about her grandfather's tiny home town in Missouri, where she spent most of her summers while growing up. "Funny how time erases memories over time," Hemby sings with a gentle sadness in the second verse. "But the feeling lingers 'round in the walls of your mind." In those lyrics, we find Hemby grasping onto the feelings of a memory more than the memory itself, a practice that is both intimately personal to her and universally relatable for listeners. And that's what makes this song -- and all of Hemby's songwriting -- just so damn good.

1

"Automatic"

From Miranda Lambert's 'Platinum' (2013)

All together, Hemby has written well over a dozen songs for or with Lambert, all of which deserve to make this list for one reason or another. But we couldn't do that, so for our top pick, we're going with a No. 1 song that was also nominated for two Grammy Awards.

Written alongside Lambert and fellow songwriter Nicolle Galyon, "Automatic" was the lead single from Lambert's fifth studio album, Platinum. Celebrating the days "before everything became automatic," the single centers around the idea of passing time and a nostalgia for simpler times -- themes that are often found in Hemby's writing. As with many of her songs, "Automatic" reminds listeners to pause, take a deep breath and remember that the journey to something can be just as fulfilling as the destination.
More From Big Cat - Country with Attitude