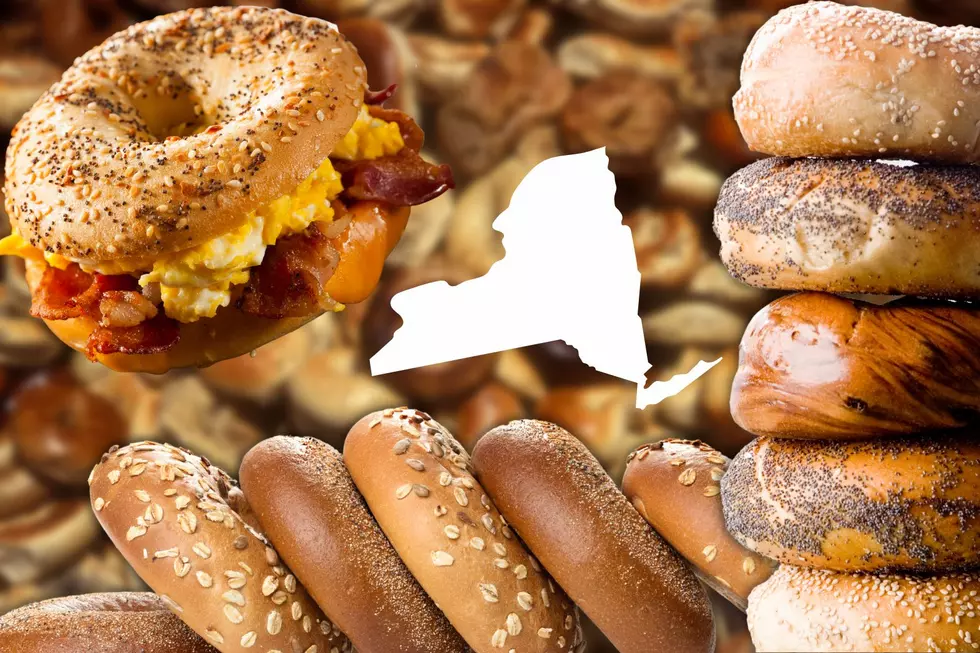 It's National Bagel Day Everyday at These 12 Great Upstate New York Cafes
Canva
"Bagels for everybody!"
January 15 is National Bagel Day.  But I ask you this.  Who celebrates the delicious and almighty bagel with just one day of the year?
I like bagels several times a week, personally.
Everyone knows New York has the best bagels in the country. While our friends down near New York City may argue their bagels are the absolute best, us Upstate New Yorkers have managed to come up with quite the even match of bagels. From poppyseed and plain to sesame seed and cinnamon raisin, there is a bagel for everyone.
Bagel shops are everywhere in Upstate New York. From big cities to small towns (as you will see in this list), every region has its go-to spot for a great bagel. Coffee shops have bagels, as do sandwich shops and restaurants.  Depending on how you like your bagel and what you want on it will help you decide where to go to get one. The thing I like about a bagel (well, besides the bagel itself) is that it is a perfect vehicle to carry your favorite foods in.  From bacon and eggs to smoked salmon to peanut butter and jelly, a bagel is a delicious platform for tasty adventures on the go or in the comfort of your own home.
Here are a dozen great bagel shops in Upstate New York.  But don't just wait for National Bagel Day to come around to celebrate.  Stop in today!
Celebrate National Bagel Day at These Upstate New York Bagel Shops
January 15 is National Bagel Day. But don't stop with just one day! Celebrate the mighty bagel every day at these tasty Upstate New York bagel shops.
They all serve handmade bagels, and all offer an amazing array of bagel sandwiches. The shops range from the Hudson Valley to Western New York. Enjoy! And remember, if your favorite bagel shop didn't make this list go ahead and give it a shout-out over on our Facebook page!
More! More of the Best Bagel Destinations in Upstate New York
So, how do you start your morning? A piece of toast on the run? A bowl of Cheerios? Ham and eggs? A fruit smoothie? Well, they are all good starters but for this writer (and many other folks) a great way to start the day is with a toasted bagel with a schmear of cream cheese. Filling, healthy, delicious, and convenient. There are dozens of bagel shops spread all over the Upstate region. Here is a starter list of 14 great bagel bakeries, from the Hudson Valley to Buffalo, and from the St. Lawrence River to the Catskills. Check out the list and see some of the great photos. I can guarantee you that looking at these photographs will make you say, "Yup, it is bagel time!"
More From Big Cat - Country with Attitude