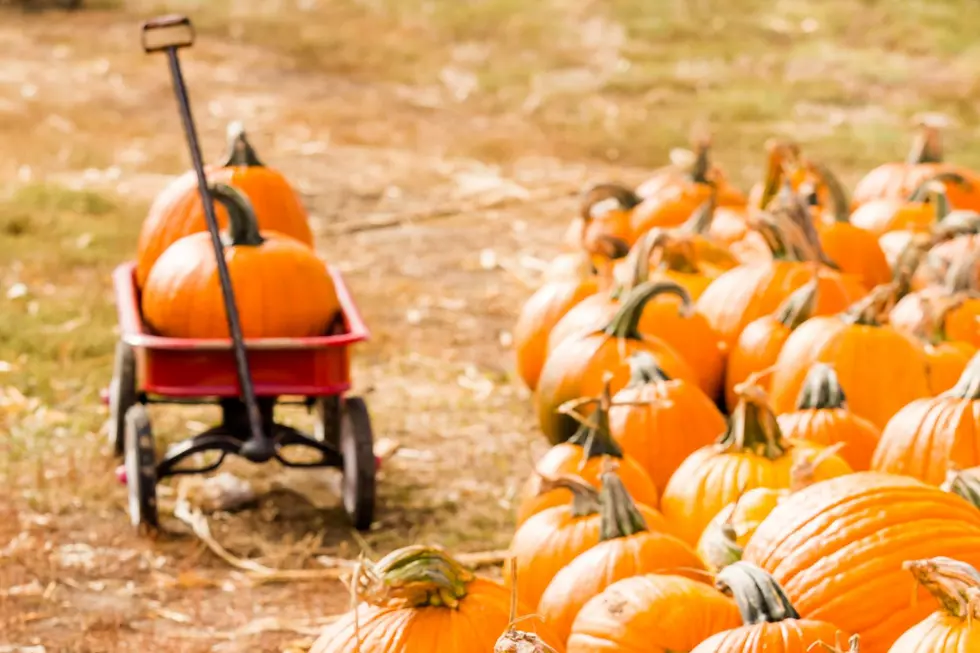 Upstate New York Pumpkin Patch Voted 5th Best In Nation
Canva
We are in the heart of the fall harvest and Halloween season and one Upstate pumpkin patch is among the nation's best to get that all-important seasonal symbol.

This time of year is all about apples, foliage, and everything the fall harvest has to offer. Many argue that this is the most beautiful time of the year in Upstate New York and there is certainly no shortage of ways and destinations to get outside and enjoy everything autumn has to offer. That includes getting outside to grab one of the most important symbols of the season: pumpkins!
For all things fall, we have plenty of amazing pumpkin patches and apple orchards in the Capital Region and throughout Upstate New York to visit. Especially this time of year, taking a drive through that stunning fall foliage is worthwhile trip for that final destination!
So for that next fall excursion to grab some pumpkins with your kiddos, just an hour and 15 minutes from the Albany area is an Upstate pumpkin patch that has gotten some national recognition from USA Today readers as the best of the best in the country.
Kelder's Farm Voted 5th Best Pumpkin Patch In Nation
Kerhonkson is a little over an hour away from Albany, and it is also home to the 5th best pumpkin patch in the entire country according to USA Today readers: Kelder's Farm.
Here is what the USA Today story had to say about the Kerhonkson attraction that was voted among the nation's best:
Find the perfect pumpkin for carving, roasting seeds and decorating at Kelder's Farm. Farm attractions, including mini-golf, the jumping pillow and a corn maze, make your pumpkin picking adventure a full-day excursion! Try your hand at Milk-A-Cow, give the llamas and alpacas a treat and explore hay mountain.
Kelder's does has plenty to offer as far as great attractions in addition to the great pumpkins, not to mention plenty of great fall treats to eat!
Like most great pumpkin patches, Kelder's offers a whole lot more than just getting gourds. You can make a day out of the trip with your family, and the fact that actual USA Today readers voted for Kelder's is even more reason to add it to the top of your fall day-trip list.
Kelder's is about an hour and 15 minutes south of Albany in the Hudson Valley and you can get more info here!
Stunning Listener Shots Of Upstate NY Peak Foliage
Everyone has their goto leaf-peeping spot! Check this gallery of amazing foliage shots from all over the Capital Region and Upstate New York.
15 Fall Things People in Upstate NY are Most Passionate About!
List of the Top Halloween Haunts and Attractions in Upstate NY!
Here's a list of some of the most popular haunted attractions in Upstate NY for the 2022 Haunting Season - now happening!
More From Big Cat - Country with Attitude