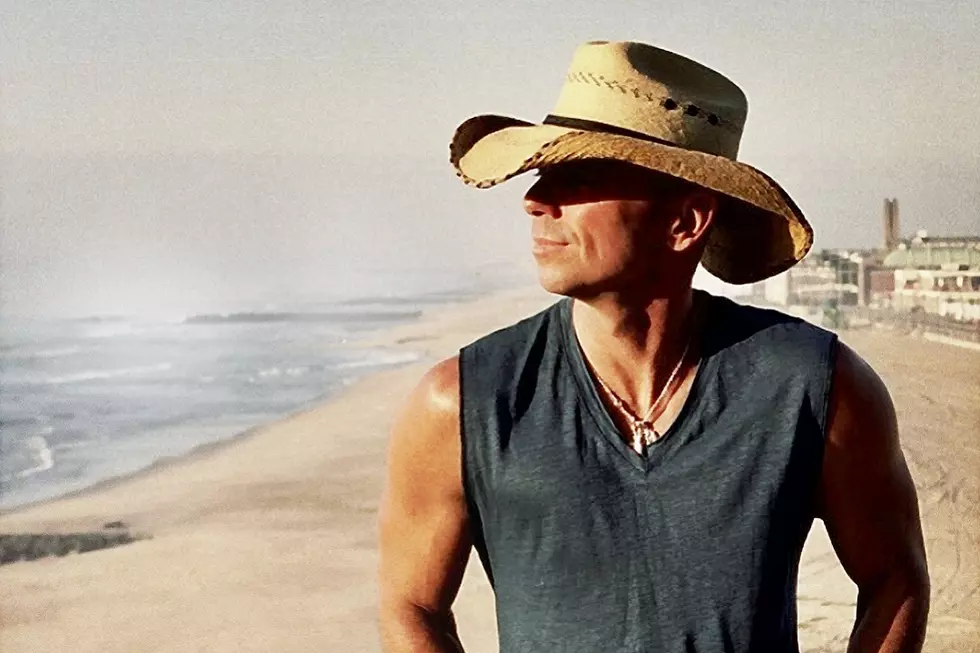 Kenny Chesney's 'Here and Now': 5 Songs for Living Life to the Fullest
Courtesy of EB Media
Kenny Chesney has long maintained a thoughtful yet carefree air in his music, but his new studio album, Here and Now, in particular, feels particularly timely. Chesney wasn't planning to release a new record in the middle of a global pandemic, of course, but the vibe of the country star's latest record is needed in this here and now.
At times both nostalgic and grateful, wistful and energetic, Chesney's newest project contains 13 reminders to take life and love seriously -- but not too seriously. Stories of lost love and lost fortunes await listeners, as do light ruminations on happiness and life's beauty.
"There [is] a lot of living in every one of these songs," Chesney says.
Chesney's second album with Warner Music Nashville, the label he signed with in 2018, arrives Friday (May 1). Consider these five tracks your reminders to appreciate and enjoy life, and to live it to the fullest, no matter what the world throws at you.
"We Do" is a song for No Shoes Nation, Chesney's die-hard fans, but also his band and crew. Every night on tour, they're living in the moment, and for the moment, exuding an energy that seeps into the rest of their lives.

"We laugh and we love and we can't get enough / As loud as we're living, man, we still turn it up," Chesney sings in the chorus. "We're amplified, come alive, side by side / No matter where it goes, you know we're here for the ride ..."

"We Do" was inspired by the mantra Chesney and his team have: "Who gets to live like we do? WE DO."

Craig Wiseman, David Garcia and David Lee Murphy co-wrote "Here and Now," but the song speaks deeply to Chesney. "That line, 'Everybody's waiting, but they're waiting on what? Better get to living, because all we've got is ... here and now ...' -- that is the whole deal in two lines," Chesney reflects. "Your life is now, get after it."

It's not always easy, the singer confesses, to be present: "I struggle with that every day of my life, I truly do ... It's really tough for me to be present and to be in the moment and try to live my life in that space," he admits -- but the song is a reminder to keep focused on what's happening around you, because it's worth it.

"["Here and Now"] says everything about how we all put off living our lives because there's so much other stuff to do," Chesney says. "Only thing is, that's exactly how you miss everything that matters!"

A conversation between two people in a bar -- one a fallen celebrity of some sort -- "Wasted" finds the ex-star explaining to his new barstool buddy how, exactly, he wound up there, having "went through a fortune just like that / Down to the shirt that I got on my back ... pretty damn fast." He blew through a fortune and and years' worth of time, but he's not complaining.

"I was goin' non-stop 'til I squeezed every drop of that / Good-time top-shelf sweet life that I tasted," the man explains. "And to tell you the truth, the rest / I just wasted."

"When I heard the song "Wasted,"" Chesney recalls, "it made me want to get out and live, and live with energy."

"Happy is as happy does," sings Chesney in the chorus of "Happy Does." No matter how you find it or what might be creeping in to prevent it, happiness is the key to ... well, happiness.

"It's just being happy and being thankful and being humble and having gratitude -- those are the things that I try to lean on," Chesney reflects. Hearing "Happy Does" for the first time, he says, made him crack a big grin.

A stomping beat, an acoustic guitar and a few "la-da-da-dah"s help create the 'round-the-campfire sing-a-long feel of "Beautiful World," in which Chesney reflects on the wild and wonderful experience of life. There's nothing particularly deep or groundbreaking here, but it's sure gonna make you feel good.

"It's a big ol' beautiful world out there / Sometimes you've just gotta let it take you where / The roller coaster ride meets the tilt-a-whirl," goes the chorus. "It's a big ol' beautiful world."
More From Big Cat - Country with Attitude