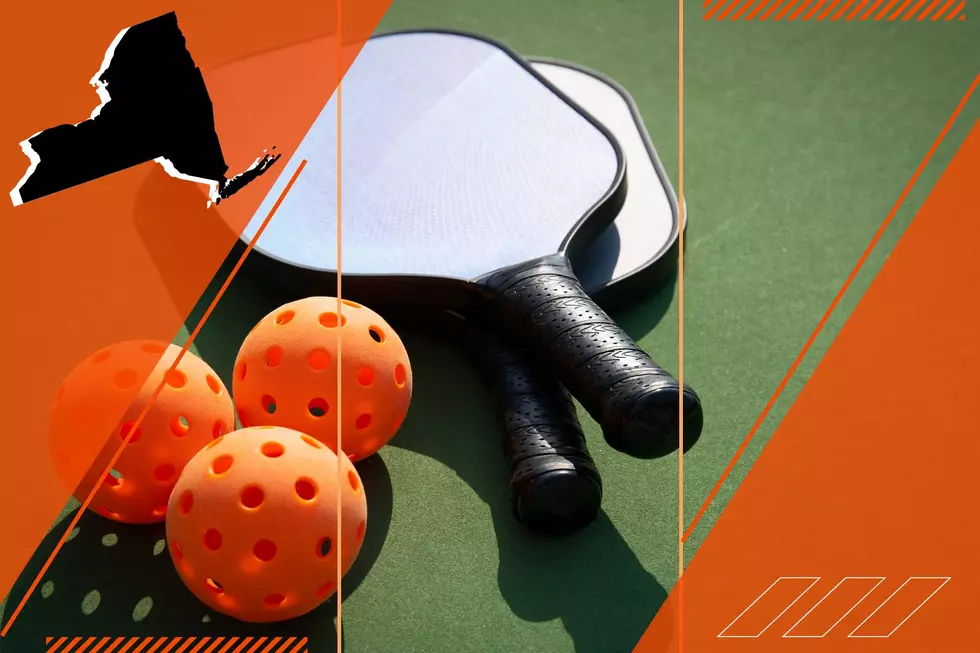 "Let's Play Pickleball!" 13 Great Upstate NY Courts to Play
Canva
What an odd name for the fastest-growing sport in America! Yep, that's right. Pickleball is sweeping the nation by storm and if you haven't yet heard about it, you're surely about to.
This strange mixture of tennis, badminton, and ping pong, is growing in popularity with all age groups, from young kids to senior citizens. It began in the mid-1960s as a homemade backyard family game in Bainbridge Island, Washington. Over the next two decades the game's fame spread and today more than 5 million people play on courts, in tournaments, and at clubs around the country.
The seemingly leisurely game can be played either outdoors or indoors based on your preference. You'll find both options on the list below and throughout Upstate New York. You can play the sport with either two or four players on a court. The equipment required to play pickleball is pretty minimal, requiring pretty much just a paddle, a wiffleball-type ball, and a buddy to volley with on the court.
While pickleball seems to be an interesting fusion of tennis, badminton and ping pong, the courts are unique to pickleball. They are much smaller than a typical tennis court, which is why you'll want to find the right places to play in an area near you in Upstate New York. And surprisingly, or not so surprisingly, there are quite a few options.
Here are 13 places to get your pickleball game on in Upstate New York.
Pickleball!! 13 Courts and Clubs in Upstate New York to Play This Popular Game!
Pickleball? Odd name? For sure. But there is no doubt that this is one of America's favorite sporting pastimes today. It started in 1965 in Bainbridge Island, Washington. Its popularity grew throughout the Northwest and today it is the fastest-growing sport in the United States.
Here are 13 places (among a hundred) where you can play pickleball in Upstate New York.
10 Incredible Upstate New York Public Buildings With Amazing Back Stories!
Often times we pass by a government building and pay no attention to it. A post office, county courthouse, fire house, etc. But, oh the stories these places can tell. Here are 10 unique government buildings in Upstate New York whose histories might just catch your attention!
More From Big Cat - Country with Attitude