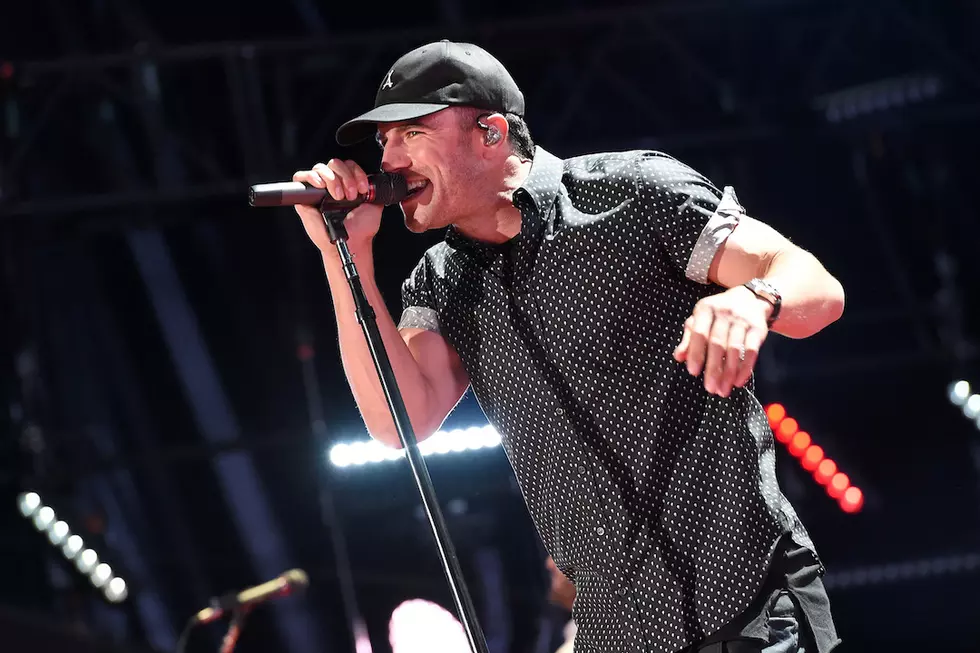 Rick Diamond, Getty Images
In the past few years, Sam Hunt has carved out a niche for himself with his unique mix of country, R&B and top-notch songwriting. His debut record, 2014's Montevallo, has been certified triple platinum.
Hunt's also got several platinum singles and a Grammy nod for Best Country Album to his name. Oh, and then there's that one single, "Body Like a Back Road" -- you may have heard it? -- that was everywhere in 2017, and broke a 55-year-old Hot Country Songs chart record.
Though Hunt has been in the public eye for a relatively short amount of time, and has yet to release his sophomore album, he's racked up enough tracks -- both as a songwriter and for himself -- to have a strong Top 5. The following are our favorite Hunt hits.
5

"Cop Car"

From Keith Urban's 'Fuse' (2013)

There's something supremely unique about a love song that takes place in a cop car: It's got an edge, a danger, that's not often found in romantic tunes.

"There was somethin' 'bout the way / The blue lights were shinin' / Bringin' out the freedom in your eyes / I was too busy watching you / Going wild, child / To be worried about going to jail," the chorus goes. "You were thinking that / Running for it / Would make a good story / I was thinking you were crazy as hell / And you were so innocent / But you were stealing my heart / I fell in love in the back of a cop car."

Hunt, Zach Crowell and Matt Jenkins are the masterminds behind this Keith Urban hit. Hunt's own version of the song appears on his Montevallo album and his Between the Pines mixtape.

4

"Saturday Night"

From 'Between the Pines' (2013)

A deep cut from Hunt's 2013 mixtape, "Saturday Night" didn't make it onto the singer's debut album, but it's become a live staple. The song foreshadowed Hunt's hits "Leave the Night On" and "House Party" with its good-time lyrics about staying out late and living it up, and the rap break allows the singer to show off his lightning-quick lyrical abilities.

3

"Break Up In a Small Town"

From 'Montevallo' (2014)

There's no one in country music who can sing-talk a serious song quite like Hunt. "Break Up in a Small Town" was co-written by Hunt, Zach Crowell and Shane McAnally and was released in September of 2015 -- and the angst behind Hunt's words plus the hard-hitting lyricism won fans.

"I knew she'd find a way to get over me," Hunt admits. "But I'd never thought that / She would get down with somebody I know / I guess that's just how it goes / When you break up in a small town."

Those words right there? They're pure gold ... or rather, platinum. "Break Up in a Small Town" became Hunt's fourth consecutive Top 3 hit on the country charts, too.

2

"Body Like a Back Road"

Single (2017)

Everyone thought Hunt's career was on fire before 2017 -- and then, that February, he dropped "Body Like a Back Road." The simple, quick (it's only 2:40 long) and upbeat song exploded, going to No. 1 on the country charts, earning platinum certification six times over and breaking the record for longest run at No. 1 on the Billboard Hot Country Songs chart.

Written by Hunt with Zach Crowell, Shane McAnally and Josh Osborne, the megahit was everywhere that summer -- a sweet wedding gift for Hunt and his now-wife Hannah Lee Fowler, the woman who inspired the track. After being in an on-again, off-again relationship for years (it's Fowler who inspired much of Montevallo), the two tied the knot that spring.

1

"Take Your Time"

From 'Montevallo' (2014)

"Take Your Time" was Hunt's second single from Montevallo, and it's been certified double platinum. The song was a hit worldwide, too, charting in Belgium, Canada, the Czech Republic, Lebanon, Italy, the Netherlands, Slovakia and many other places. But what really makes "Take Your Time" worthy of this No. 1 spot is its music video.

"Take Your Time" can be (and often is) interpreted simply as a song about a man interested in a woman, so it was surprising to see Hunt use the clip to raise awareness about domestic violence. It's a heart-wrenching, tragic and brave visual, all at the same time.
More From Big Cat - Country with Attitude